We all have monsters in our lives: grief, despair, stress, self-loathing, harmful self-comparison; the list goes on, and it is as varied as the number of people on our planet. Our natural response to these monsters is to run away or fight (the flight or fight response). We may express this response in filling our lives to their max capacity with things to do; this is avoidance, a flight response. We may also recognize this in the way we talk to ourselves or others with a harsh tone; this is harmful dialogue, both internal and external, and it is a fight response. So, when you tense up and withdraw, or when you lash out at those around you, you are acting normally. It's just not helpful to act this way. It doesn't get rid of the monsters in your life; nor does it make you stronger or more capable of dealing with them.
In our age of hyper-awareness, we may tend to focus on why these things are happening or how they happen. When we focus on the why, we tend to make excuses like, "People are born evil, or with sin." What does this do, other than give us a spiritual reason for hating ourselves? When we focus on the how, we tend to relive the suffering, despite not wanting to experience it. I think we should put these questions aside and just accept that they happen. People suffer, every single day, and at some point, every single person experiences suffering.
Last night as I was thinking about the various monsters in my life and in the lives of people I care about, I visualized the following meditation.
Step 1: Get comfortable. Maybe sit cross-legged on the floor, either on a cushion, blanket, or mat. If you have low back pain, or if your feet fall asleep from seated meditation, sit in a chair. You could even lie in your bed, but you don't want to get so comfortable you fall asleep.
Step 2: Close your eyes, or focus on something like a candle.
Step 3: Breathe.
When I visualize breathing, I like to think of my breath as tiny particles of light. The regeneration energy from Doctor Who is a beautiful expression of this in popular culture, but you could also view this as the midi-chlorians from Star Wars, or fairy dust, or rainbow sprinkles…whatever you find comforting and healing. For yogis, this is called prana.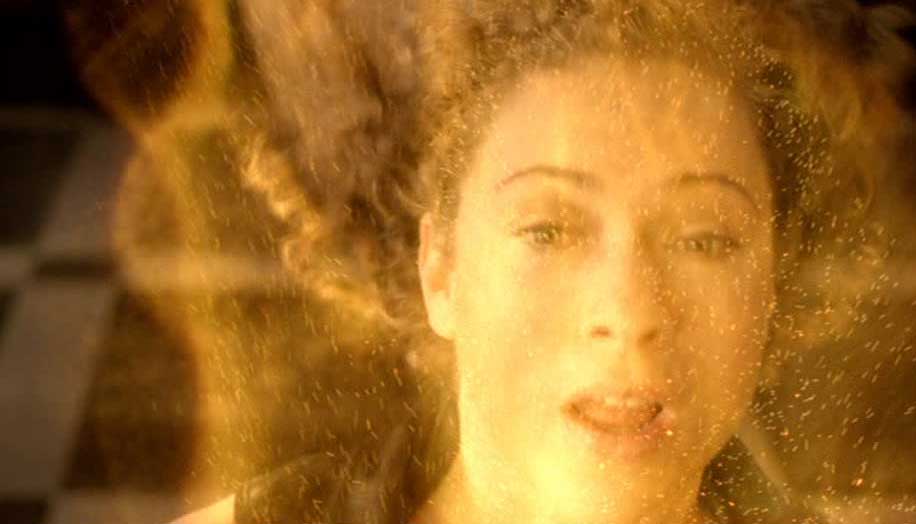 When you breathe in, your body expands, and maybe part of you resists that expansion. Maybe you have tightness in your chest or in your shoulders. Maybe  you're self-conscious of your belly, and try to hold it in all the time. (I find myself doing this without even realizing it.) Right now, I have tightness in my lower abdomen and in the tops of my hips, but it's different on different days. Recognize that tightness and imagine your breath-light traveling to and through those tight places as you inhale. When you exhale, you should feel more relaxed, especially in those areas. Repeat this breathing until you are relaxed fully.
Step 4: Visualize the following:
You are a strong and trained gladiator, suited in armor and armed with your weapon(s) of choice. You are in the coliseum waiting for your monster to enter. It may take the form of a lion or wild boar or even a dragon. Whatever your monster is, you hear it coming. You hear chains rattling, and you feel the earth tremble as your monster draws nearer to the coliseum and to you. The gate opens, and your monster enters the coliseum with you.
Your natural response may be to cling to your armor, grip your weapons, and lash out in fear-filled rage. You may think you need to do this just to survive. Pause. Return to your breath. Let your breath-light travel to the places of tightness in your body. Return to the feeling of full relaxation. Then return to your visualization.
The monster approaches, maybe charging, maybe tentatively, maybe trying to tease and torment you. You may feel the need to run away. Pause. Return to your breath. Let your breath-light travel to the places of tightness in your body. Return to the feeling of full relaxation. Then return to your visualization.
Instead of attacking or fleeing, drop your weapons. Begin to remove your armor piece by piece, breathing each time. As you breathe in, let your breath-light travel to your shins as you remove your shin guards and boots with your exhale. Continue to inhale slowly and deeply, and remove your breast-plate and wrist sheaths on your exhales. On your final exhale, remove your helmet.
In this place of unbounded relaxation, and in the face of your monster, kneel to the ground. Breathe, trusting your breath and trusting that your monster cannot hurt you. Stay in this place of calm in the very presence of your deepest fear as long as it does not invoke the fight or flight response.
When you have reached your limit, bow  to your monster, expressing gratitude for what it has taught you in this moment. Stand up slowly, and walk away, leaving your monster there in the coliseum, waiting for your return whenever you are ready to face it again.
*******
As I tried this meditation last night, I felt stronger and more able to handle my own fears, and I am grateful to my Buddhist Metta practice for teaching me to invite suffering in, bit by bit, so I can sit with it and learn from it. It is essentially the same practice but focused primarily on the things that make us afraid as opposed to cultivating lovingkindness for various people in our lives.
You may not complete the visualization the first or second or tenth time you do it. That's okay. Maybe you've had this fear your whole life. It will take time and consistency to change your currently conditioned response, and that length of time is also as varied as the number of people on the planet. But if you stick with it, you will find yourself freed from those fears, able to sit with them, and able to learn from them. You are bigger than any monster you have created for yourself, and it may take time to learn that. It will definitely take constant and consistent repetition to learn it. But it is possible. Maybe you find this whole process hokey. That's okay; I do, too. But that doesn't mean it doesn't work. Try it and see for yourself.